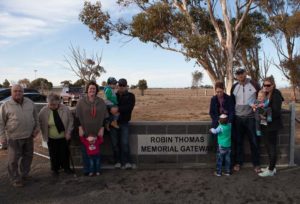 An important community event for Horsham and Kalkee was held at the entrance to Blue Ribbon Raceway on Sunday morning. Horsham Motor Sports Club began the second day of its Speedway Carnival with the official opening of the newly built 'Robin Thomas Memorial Gateway'.
About 100 people were in attendance and the ceremony began with a speech from club president Mick Fitzgerald summarising Robin Thomas' achievement and phenomenal work that he put into the Speedway Club.
"Robin worked tirelessly for our Club; he was a humorous and extremely generous person; a club member since the early 1990's; a committee member possibly in every year since joining", said Fitzgerald.
Fitzgerald detailed the three years Robin sat as Club President and two years as Vice President. He also spoke of the many positions he filled at the track, not only on race day but all the days he and others spent maintaining the Speedway venue.
"Robin was a keen supporter of all competitor classes and he of course had an endless passion for our Blue Ribbon V8 Trucks …which he did race in the early time of the class", said Fitzgerald. "He will never be forgotten – an honest guy whose heart was bigger than himself. The word 'volunteer' could easily be defined in two words – 'Robin Thomas'"
Sue Thomas was then asked to uncover the gateway to officially open it. A new stencil-cut steel sign was unveiled bearing Robin's name set in a large granite block gateway.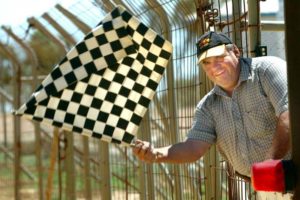 Robin had always wanted to see the club upgrade its existing rusty gate to something more welcoming to visitors to the track. Unfortunately there always seemed to be bigger and more urgent task and project around the venue.
He unfortunately passed away on August 6th 2013.
It only seemed fitting when deciding what the club could do to celebrate Robin that a memorial gateway should be built. It not only stands to welcome visitors to the speedway but also serves as a reminder so that he will not be forgotten.
The gateway was made possible by time, money and materials donated by club members and friends of Robin who understood the important place he kept for the speedway in his life.