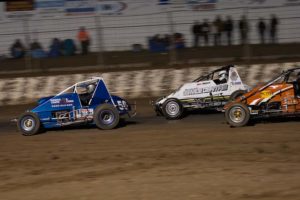 The Queen's Birthday weekend Speedway Carnival at Blue Ribbon Raceway began on Saturday afternoon, but not without earlier concern of drizzle for Horsham Motor Sports Club officials. Although the weather passed by midday the track surface was very greasy. The program featuring 82 races over the weekend was re-shuffled, 33 Wingless Sprint Cars were then the first to race in an attempt to dry out the track aided by their large race tyres.
Scott Drew from Geelong was consistent throughout the afternoon winning both his heats. Melbourne driver Travis Millar came second in both his heats and he started fourth in the 'A-Main' final race and drove cleanly to win the final beating Drew home in second and Warrnambool driver Quentin Tanner in third.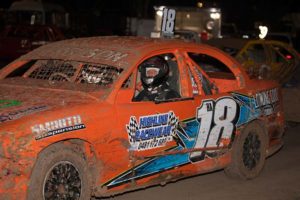 Saturday night's 'A-Main' race was not without incident as Alex Thomas of Warrnambool flipped several times and crashed heavily into the safety fence, not only heavily damaging his car but also the fence. Thomas fortunately walked away from the accident unharmed and HMSC officials worked quickly to repair the fence to allow racing to continue.
Grant Williams of Horsham won the 'Ride in a Race car Raffle' and Ballarat driver Brooke Ferguson took great pleasure in taking Grant for ride in two races. In one race they finished second.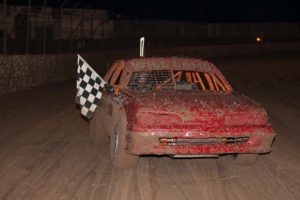 Daylesford's Will Lamb who won two races and Warrnambool driver Scott Mallon who won the third heat race, dominated the Three Litre heat class. The final race was won by Lamb with Mallon closely behind in second. Third place was awarded to Swan Hill driver Michael Boyle.
Sunday started earlier with the official opening of the newly built 'Robin Thomas Memorial Gateway'. About 100 people were in attendance and after a brief speech from club president Mick Fitzgerald, summarising Robin's achievement and phenomenal work that he put into the Speedway Club, the new stencil-cut steel sign was unveiled bearing Thomas' name set in a large granite block gateway.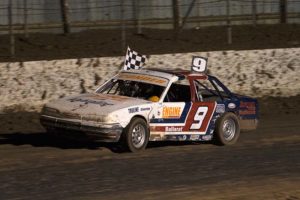 The Wingless Sprints returned to the track on Sunday and raced competitively on a track which had improved overnight. Cars were passing regularly throughout the heat races and lap times were 2 seconds faster than Saturday. The podium of the feature race had three of the heat winners of the day, Travis Millar again won the feature along with Scott Drew in second and Daniel Storer in third.
Ballarat driver Lucas Condor dominated the ASCF Open Sedan heat races, winning four of the five races. Horsham Driver Graham Gerlach, who suffered numerous mechanical faults with his car on Saturday, repaired his car overnight and clinched the heat four race win. Mildura driver Tahlea Dohlic decided to also race with the Open Sedans on Sunday and won the feature race on Sunday ahead of Condor and Gerlach.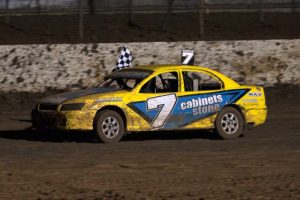 Horsham Driver Luke James earned three Street Stock heat race wins, leaving Richard Bansemer to claim the other two. Bansemer quickly got in front of James during the final race and won after leading 13 laps of the 15-lap race. Ballarat driver Darren Giacometti followed closely behind in third position.
Sunday also featured a series of Mechanic Races, which gives drivers the chance to let one of their pit crew or a good friend to have a go at racing speedway. Darren Condor from Ballarat collected two wins and Horsham driver Matt Gerlach collected one as well.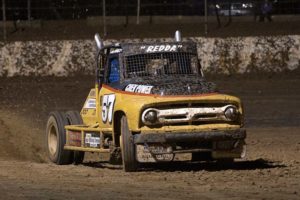 The Limited Sportsman field was very small with only three of the four nominated cars making it to the track. Fresh from racing 1200 Junior Sedans, Hamilton driver Chris Ansell had nominated hoping to have completed building his new car. Newly crowned Victoria champion and HMSC member Mark McDonald handed over his car after competing in two races to the new Sportsman driver to give him some experience.
Minyip's Adam McKenzie started at pole in the final after winning all five heat races. Ansell and Horsham driver Adrian Christian shared seconds and thirds. Ansell was the surprise when he found his feet in McDonald's car and won the final after leading all eight laps.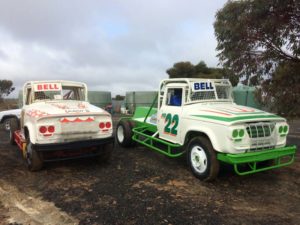 Six V8 trucks raced the weekend, but with some new faces. Horsham driver Wes Bell unveiled his new truck and Horsham club member Jamie Collins took a break from lap scoring for the weekend to drive Bell's old truck. Luke James was most successful claiming two heat wins while Fletcher Mills of Kalkee, Brendan Jackson of Warracknabeal and Jaryd Carman of Horsham shared a heat win each.
Bell worked out some teething issues with his new truck and showed that it will be a truck to be reckoned with taking an easy second position. Luke James won the Final for V8 Trucks; Jamie Collins was the surprise when he snatched second with two laps to go from Fletcher Mills who went on to claim third.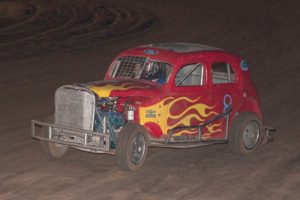 Fifteen race cars of yesteryear put on some spirited racing with the Vintage Hot Rods and Vintage Heavy Hot Rods. The vintage race on Sunday saw a spectacular three-car crash, which unfortunately saw Dennis Bald and Trevor Crafter's Vintage Heavy Hot Rods towed from the track. Gary Smith won the best-presented car and Austin Cocoran won the most determined driver award.
The Dimboola Traders 1200 Junior Feature raced on both days of the weekend. Kooper Greig of Murray Bridge was the favourite winning 4 of his 5 heat races. Angus Hollis of Portland and Oskar Tanner rounded out the top 3 after the heat races were completed.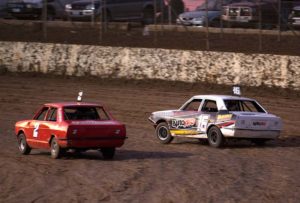 Unfortunately the feature race was marred when a mix up resulted in two-thirds of the field racing in the final race. The race was declared, 1st Angus Hollis, 2nd Carly Walsh and 3rd Ben Micallef.
ASCF Ladies also featured during the weekend. Tahlea Dohlic from Mildura was leading the points table after the heat races in front of Brooke Ferguson of Ballarat. Dohlic won the final race after leading the entire race with Ferguson not far behind in second. Warracknabeal sisters Kathryn and Emma Wilken finished third and fourth respectively.
Horsham Motor Sports Club Presentation dinner will be on Saturday 11th July at the Kalkee Football Club Rooms.
The new racing season at Blue Ribbon Raceway will commence in December.