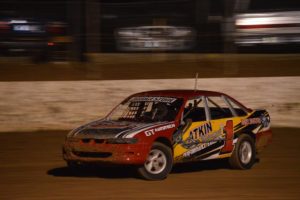 Kalkee's Blue Ribbon Raceway was a popular place to be on Saturday May 2nd, with 56 speedway drivers representing four states of Australia in attendance.
Reigning Victorian Production Sedan champion Tim Atkin from Gympie, QLD, and Stephen Laidlaw from Curchhill, Vic, both demonstrated their intentions early in the night, each winning two heat races.
The Gartner brothers from Penola were the surprise of the night when they shared two of the heat race wins. In the second round of heats they both managed to get around Atkin in their dual registered Street Stock sedans.  The brothers returned to Blue Ribbon after a podium finish at the feature race held earlier in April.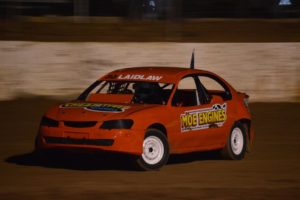 While technically their cars were less powerful than the full time Production sedans, Stephen and Mark came first and second respectfully with the champion collecting third in the heat race.  Mark Gartner went on to also win the third round race.
Fifteen Production Sedans started in the feature 30-lap race.
Atkins and Laidlaw battled each other at the front of the field and after 10 laps started to contend with lap traffic. Wayne Bourke from Leeton, NSW vied with the Gartner brothers throughout. Several stoppages near the end of the race, including a five-car pile up, gave the field a chance to catch up to the leaders.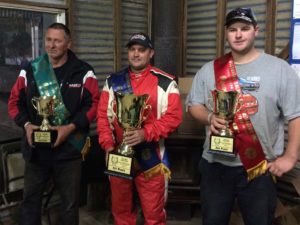 Tim Atkin was victorious followed by Mark Gartner in 2nd and Trevor Mills in 3rd.
Eighteen Formula 500's competed in their feature race. Warrnambool drivers Will Caroll and Shane Van Duynhoven took control of the field and set a fast pace, lapping slower cars after only four laps.
The race had a few stoppages mid race, which gave NSW champion, Dale Sinclair a chance to keep up. Will Caroll went on to lead the race but while contending with lap traffic, Shane Van Duynhoven managed to snatch the lead and take the win followed by Caroll in 2nd and Dion Bellman in 3rd.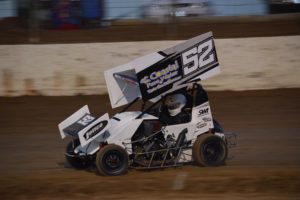 Three Litre Sedans supported the evening with three heat races. Ballarat driver Will Lamb was the dominant driver winning all three races in his VL Commodore.  2nd Place was shared among the visiting Swan Hill and Rushworth drivers, while Horsham Club member Matt Gerlach collected two 3rd positions
Veteran V8 Truck driver Wes Bell, from Horsham, shook off his bad luck this season, getting a clear win in the first race and also a third. Kalkee farmer, Fletcher Mills was consistent with 3 second placings, almost snatched a win from Luke James who collected 2 wins. Jaryd Carman came 3rd twice for the evening.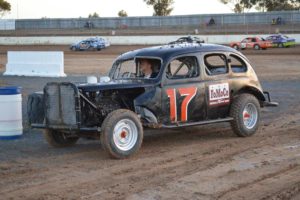 The Vintage Heavy Rods put on some colourful racing. Jamie Pridham in his yellow modified VW collected a heat win, but also collected the most points for the evening.
Ken Tollner did well in his Hot Rod coming second overall, collecting a win and 3 third positions. Portland man Austin Corcoran was 3rd overall, driving his shiny black FJ Stock Car.
Members of Horsham Motor Sports Club are already looking forward to their season closer – a two-day meeting that will be held on June 6th and 7th.  The speedway carnival will feature Three Litre Sedans, ASCF Ladies, Wingless Sprintcars and Vintage Heavy Hotrods.