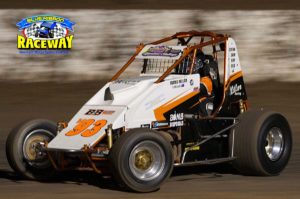 A big two-day race meeting of speedway is set for this weekend with the running of the Blue Ribbon Raceway Speedway Carnival. The annual two day race meeting will be held on Saturday 11th and Sunday 12th, with speedway drivers from across Victoria and South Australia racing on both days.
A huge field of 37 Wingless Sprints have nominated to race on the weekend, in what has become an annual feature race. The Horsham club now has two drivers in the popular class. Jeremy Beddison will be unveiling his newly built car for the first time this weekend. Steve Hately who now has a season of Wingless Sprint racing under his belt, looks forward to finally challenging the field on his home track.
Another open-wheeled class – Limited Sportsman, will also feature on the weekend. The class is currently is seeing a bit of a resurgence and 14 drivers will race on the Saturday. Three heat races will decide the starting positions of feature race later in the evening. Returning to the class is Dimboola Driver, Dean Baker. He has lovingly restored the same car that he won the Victorian title back in 1988. But don't let the age of the car be deceptive, it is the same car that Mark McDonald won the title recently in 2015, before he handed it back to Dean.
Sunday will see the Limited 'Sporties' return to the track, but with some new faces driving them.
The car owners will be handing over the steering wheel for the day to some new drivers who are keen to have a go at speedway.
A strong field of 21 Junior Sedan drivers, will race four heat races over the two days, to decide the starting positions of the Dimboola Trader's Junior Sedan feature race. The junior program has been well supported and it is always exciting to see the up and coming speedway drivers of tomorrow learn their craft.
More features of the weekend will be the annual SSA Ladies race and also Three Litre Sedans.
Both classes have good nominations and should provide some exciting racing.
Support classes for the weekend of racing also include Vintage Heavy Hotrods, V8 Trucks, Street Stock and Open SSA Sedans.
Gates will open Saturday at 2pm with the action to start at 3pm, Sunday the action to start at 1pm.
Admission is $20 for adults, $15 for pensioners and $10 for students.
Children under 12 get in for free.