The 2015 / 2016 speedway season came to a conclusion at Blue Ribbon Raceway during the long weekend. 120 drivers came to race in the two day race meeting, which featured ten different classes of race cars.
Topping the bill was the Wingless Sprints who were well represented; 30 drivers raced two heat races each night to decide starting positions of the final race.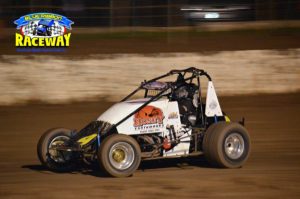 Victorian drivers  Ashley Armistead and Paul Drew were consistent throughout the heat races, but it was Carly Walsh of Cobden who was out to impress. After placing first and third in her heat races, she went on to win the Saturday night feature race, followed by Glenn Watts and Jay Nicolaisen in equal second.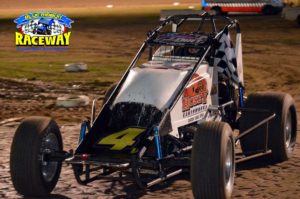 Carly was unstoppable when she returned on Sunday and won both of her heats to qualify on pole position. The feature race wasn't without incident with Bendigo driver, James Hennessy  flipping his race car on the first lap. Carly kept a clear lead over the men for the entirety of the 20 lap race to win once again on Sunday night.
The Blue Ribbon Raceway Limited Sportsman Classic was raced on Saturday night. Horsham driver Adrian Christian dominated the track claiming two wins which placed him on pole position for the feature race. Horsham Club member Mark McDonald and Hamilton driver, Daniel McLeod also earned heat wins.
6660
false
false
true
false
true
true
false
auto
false
ease-in-out
300
false
0
true
false
%curr% of %total%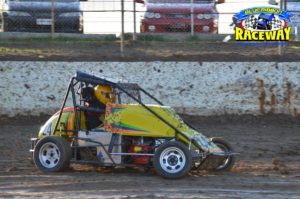 All eyes however were on a recently restored yellow #24 race car; Dean Baker of Dimboola returned to race the same car he built 32 years ago. Dean's first race wasn't without incident; he collided spectacularly with the concrete wall but kept on going to complete the race. Dean looks forward to a lot of busy weekends of speedway racing next race season.
In the final race, Minyip driver Adam McKenzie dominated the field and lead every lap to win the feature. Mark McDonald followed in second and Adrian Christian in third.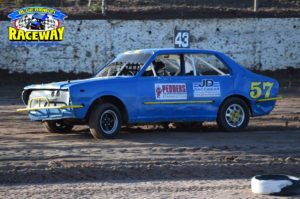 The Dimboola Traders Junior Sedan feature drew a large field of 21 drivers which were divided in two divisions. Melbourne driver Donald Young, started the 'A Grade'  feature race on pole position after winning three of his five heats. But Angus Hollis of Portland who had been consistent all weekend, quickly got in front of Young and lead the race to win.
In 'B Grade' division, Warrnambool driver Jack Tanner claimed four heat wins and went on to win the feature race.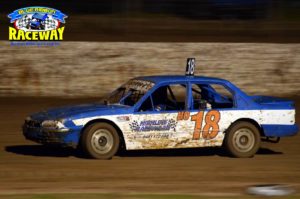 Warracknabeal driver Kathryn Wilken was an unequalled driver of the Ladies feature race. After successfully winning five heat races, she went on to easily win the feature race. Natimuk driver Jade-Cathryn Olds, quickly caught up to claim second position, followed by Belinda McCoubrie in third.
Bendigo Driver Lennie Clarke claimed three heat race wins in the Three Litre Sedan class; Lennie then went on to win the feature race followed by Mick Boyle of Swan Hill and Russell Boyd of Bendigo in second and third respectively.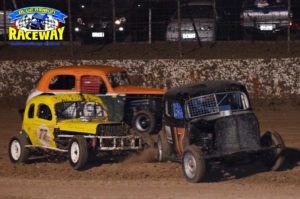 Vintage Speedway racing was on display with two healthy fields of Heavy Hot Rods and Vintage Stock Cars. Plenty of spirited demonstration racing was to be seen with Heavy Hot Rod drivers Dave Monaro of Portland and Allan Howden vying for podium position, while Darren Hetherington and Ron Taylor lead the Classic Stock Cars.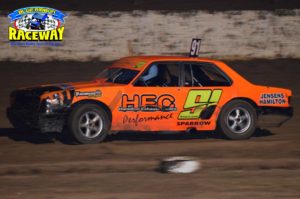 The SSA open sedans put on some interesting racing for the weekend with a collection of Modified Production, Production Sedan and Street Stock all racing together. Hamilton's Dehne Sparrow and Donald Irving were at the top of the heat race tally. Sparrow went on to win the final race with Irving in second and Jade-Cathryn Olds claimed third.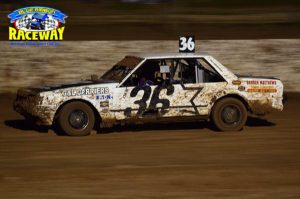 Fletcher Mills of Horsham consistently finished his heat races with podium positions in the V8 Truck racing. Wes Bell also managed a heat win, but it was Luke James who was the clear winner on Sunday who claimed the win in the final race. Luke was also successful on the weekend leading the heat race tally in the Street Stock sedans. Geelong Driver Stuey Robinson also drove well collecting two wins in Sunday's Street Stock heat races. Horsham's Richard Bansemer went on the win the final Street Stock race for the evening.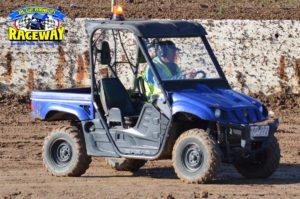 Horsham Motor Sports Club would like to thank the many drivers and crew that made the weekend a fantastic success.  Thanks must also go to the huge crew of volunteers and club members that  made the race meeting possible.
The final event for the season will be a  presentation dinner to be held on August 13th at the Kalkee Football Club rooms. The club will celebrate it's 20th anniversary of Racing at Kalkee and all members and previous members are invited to attend. Racing will return to Blue Ribbon Raceway on December 27th.